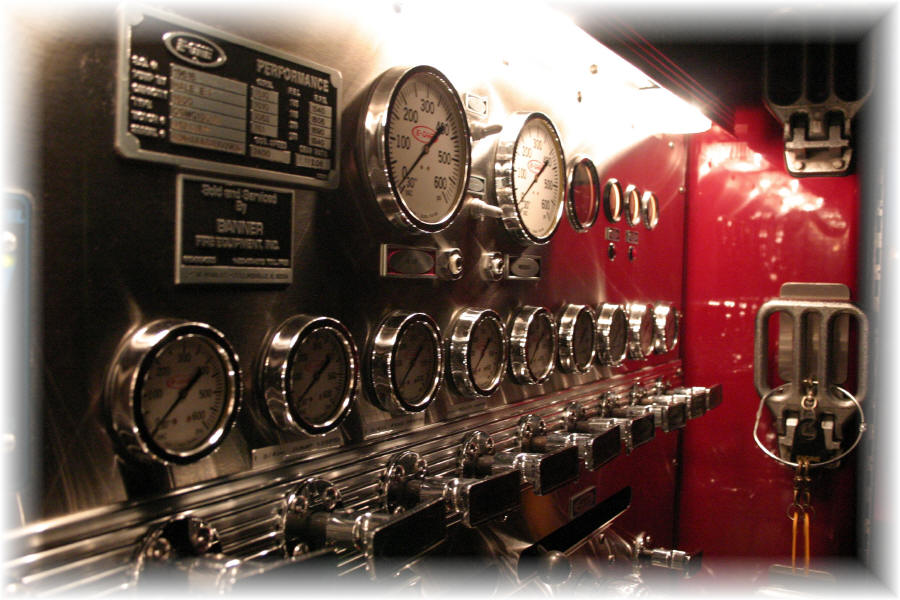 The City of Marion Fire Department has adopted the 2006 edition of the International Fire Code and the 2000 edition of the NFPA 101 Life Safety Code.   To View the updated Codes please click here

In addition to the code. The following items must be adhered to for new construction and remodels.
Smoke Detection – Smoke detection must be 110 volt hardwired installed in all bathrooms. If no alarm system is required, then an additional smoke detector must be installed outside the bathroom. All detectors must be interconnected

Emergency Lighting is required in all the bathrooms greater than 100ft.

If sprinkled, the FD connection must be 30° down with 5 Storz".

If hydrants are to be installed, they must be Kennedy with 5 Storz" & 2-2 ½ with no adapters. Hydrants should be within 100' of the FD connection.

If a Hood System is installed. The Fire Dept. must be called to inspect the exhaust duct prior to being wrapped.  If a suppression system is installed, the Fire Dept. must be called to witness an balloon and alarm test.  All hood systems must be tied into an alarm system that notifies the Marion Dispatch at (618) 997-7500.

If a sprinkler system is required per code, the Fire Dept. must be called to witness a Flow Alarm test & notification.

If an alarm system is required, the Fire Dept. must be called to witness the Alarm test & notification to the Police Dept. @ 997-7500.

Address numbers shall be numerals or alphabet letters. Numbers shall be a minimum of 4 inches high and be visible from the street.

Must call for a final inspection prior to receiving a commercial occupancy permit.

If an alarm or sprinkler system is installed, a Knox box must be installed and located on the right side of the front door at a height of four to eight feet.

If an inverter is used to supply power for emergency lighting, it must be accessible with a 4 foot ladder for testing.
The Inspection Section of the Bureau of Fire Prevention inspects the life safety components of new building construction, building remodels, and fire sprinkler & fire alarm systems to ensure compliance with the
The Marion Illinois Fire Department requires testing of all emergency equipment.  Records of all tests and inspections shall be maintained and stored on the premises for the fire department's review.  Depending on your buildings features, some, or all of the items listed below require your attention:
Facility Emergency Plan (Update plan as needed)

Fire Safety Director Certificate (Valid for 5 years)

Fire Alarm UL Certificate (Expiration date on certificate)

Annual High-Rise Life Safety Training log

Annual Fire Drill log

Annual Fire Alarm Test Certificate, includes the testing of (but not limited to): Pull Stations, Visual Warning Devices, Audibility of Fire Alarm System, Waterflow and Tamper Devices, Smoke Detectors, Firefighters' Phone System, Stairwell Emergency Phones, and Heat Sensors.

Sprinkler/Standpipe (5-yr Certification and Annual inspection)

Fire Pump Test (Diesel and Electric pumps)- (Annual and Weekly)

Emergency Generator- (Weekly and Monthly)

Elevator Emergency Equipment and Key Operation (Quarterly)

Exit and Emergency Lighting (Quarterly)

Emergency Exit and Release Devices (Annually)

Smoke Control Systems and Fire/Smoke Dampers (Quarterly)

Roll-up type fire doors (Annual)

Firefighter Air Replenishment System (Semi-Annual)

Special Extinguishing Systems – including, but not limited UL300 or Halon systems (Semi-Annual)
The Fire Command Center (FCC) Shall Contain the Following Additional Features

Stock spare of sprinklers required by NFPA #13.

Permanent signage with the name and telephone number of the applicable elevator service company.

Building contact phone numbers.

Utility shut-off location map.

Public address system instructions.

Smoke control system procedures.

Sprinkler shut-off valve and standpipe isolation valve locations.

Emergency evacuation/relocation procedures, location of tenant areas of refuge, and location of any tenants requiring evacuation assistance.

Hazardous materials inventory statement and management plan, when required by the fire code official.
Additional Inspection Responsibilities Include:
Fire Inspectors investigate fire and life safety complaints within their respective districts and determine if further action is required.  Complaints related to fire and life safety can be reported to the City of Marion Fire Department  from 8:00 AM to 5:00 PM, Monday thru Friday.

Various City agencies and departments will refer requests for inspections of food establishments, nightclubs, street fairs, and other activities or events to ensure compliance with applicable codes, and to certify that reasonable fire and life safety precautions are in place.



Pre-Incident Plans

The City of Marion Fire Department prides itself on Pre-Incident Planning. Currently, we have over 500 Pre-Plans of various buildings that assist us in case of an emergency. The Pre-Plans provide vital information pertinent to any type of emergency that may arise. We are constantly adding and updating, or revising these Pre-Plans to insure accuracy.

Each plan consists of the following:

Structure Type, Size, Classification, and Dimensions

A computer aided drawing of the structure

Locations of Access Points, nearest Hydrant, Knox-Box, Alarm Panel, Gas and Electrical Shut-Offs

Hazardous Materials (If Applicable)

Emergency Contacts

The plans are maintained by the department and accessible by computers at the station, and by laptop computers on the engines. While en route, we are able to first verify if your location contains a Knox-Box (See below for more information on Knox-Box). After that, we access your plan by business name or address. Based on specific information contained within your plan, we can implement the strategy already established for any emergency. Should an emergency arise while no one is at the location, we can call the designated personnel you have provided in the emergency contact list. We update each emergency contact list annually.

Update your Emergency Contact List HERE. Please include business name, address, three contact names including telephone numbers (usually a home number and cell phone number). Thank You.

Knox-Box

In our continuing efforts to improve fire protection and public safety, the Marion Fire Department would like to introduce to you the Knox-Box® Rapid Entry System. This information is of extreme importance and may become a legal requirement in the near future.

The Knox-Box rapid entry system is a secure emergency access program developed for property owners and fire departments. When a fire breaks out or there is a medical emergency, the Knox-Box allows immediate entry into buildings and property without forced entry damage or delay. Property owners store entrance keys, access cards, and floor plans in a high-security Knox-Box mounted near building entrances. Each Knox-Box purchased by a property owner is keyed to a single master key controlled by the fire department.

Non-Residential structures annually account for only 7 percent of fires, 2 percent of deaths, and 8 percent of injuries. These types of properties, however, account for a disproportionately large annual dollar loss of 31 percent. We invite you to find your category below and view the average amount of loss due to a fire. You will see that it would be beneficial to everyone to install a Knox-Box to reduce these losses and save lives. Figures are based on 2001, excluding the September 11 attacks.

If firefighters have responded to your property and are unable to gain access, forced entry will be necessary. Although we attempt to cause the least amount of damage, costs for repair to the damaged property may be more costly than installing a Knox-Box which prevents forced entry. The most commonly purchased Knox-Box currently used by local businesses is approximately $250. The typical steel door and frame used by commercial properties to repair could cost at least $800. To replace a window, you may be fortunate to find a cost of $250. When the cost of a Knox-Box is compared to the cost replacement of a door, lock set, or window that had to be destroyed in order to gain entry, it becomes clear that a Knox-Box is a cost effective investment in your security.

The Marion Fire Department is encouraging you to call the fire department and speak to the Captain on duty so that we can provide you with any additional information you may need, and to arrange for you to receive an order form. The Marion Fire Department does not, in any way, obtain financial profit from the sale of a Knox-Box. Further information may be obtained at http://www.knoxbox.com, but for security reasons, applications for the purchase of a Knox-Box are unique to our department, and can only be released by our department. We hope you seriously consider purchasing this product.